Snapchat is one of the most popular social media platforms nowadays. Snapchat is a simple messenger app: impressed by community filters, lenses and exclusive spectacles users prefer Snapchat over other apps. Not surprisingly, sometimes you just need get insights into someone's Snapchat account. And we can tell you how to perform Snapchat hack.
Whether it's your account or the account of your child, you can discover how to hack a Snapchat account with this guide. Let's move on and consider what the steps required to crack a Snapchat profile.
How To Start With The Snapchat Hack?
Most of the users have never tried hacking a Snapchat account. So, our guide will explain the process for the beginners. But those who are experienced with hacking, can also find something useful in the article.
So, to understand how Snapchat hack is done, let's consider the process of restoring Snapchat password. Snapchat allows users to reset their password both via Email and via SMS. If you choose the reset via Email, you should have access to the inbox to hack the account.
If you decide to reset via SMS, you need to have a device near you. In case, you don't have it, we can tell you how to still hack a Snapchat account. Here is the easiest guide to hack a Snapchat account.
Step 1: Reset Password Via Email
Your first step will be resetting password via Email. It is the straightforward way and you need to try to restore password before actually hacking the account. Maybe you won't need to hack after all?
To reset Snapchat password, you need to tap Forgot your password on the log in screen. You know have two choices: either to reset via Email or SMS. Choose the first to proceed. You will then receive a password reset link on the Email connected to the Snapchat account.
Step 2: Hack Gmail, Yahoo Or Any Other Email Account With Keylogger
Your next step is to hack Gmail or any other Email account associated with Snapchat profile. You can either try resetting the password from the Email service on your own or use the keylogger app. The first option will require you to recover password manually if Email service provided such possibility. Most of such services don't allow to recover the account by SMS as it's not the safest way. So, you will need access to additional Email to recover the first one.
As it is very complicated process, it's better to use the keylogger app. It can capture Gmail or Yahoo login credentials for you. Then you can log in and search for the reset link from Snapchat in the inbox.
Follow the link and create a new Snapchat password. With new login credentials, you can enter the account without restrictions. Only remember to delete the reset letter to not to raise suspicions.
Step 3: Recover Password Via SMS
Snapchat provides an option to help the users to recover password via SMS. Your instructions are similar to those described in Step 1. Tap Forgot your password on the log in screen of Snapchat app. Here choose the second option – reset password via SMS.
Snapchat will send the verification code to the phone number connected with certain Snapchat profile. Then you will need to enter the code in the provided field in the app. But how can you find out the code without access to the phone number? Here is the 100% working way.
Step 4: Capture The Verification Code
If you need to hack the Snapchat account of your kid, you can try distracting them for a moment and getting their phone to check the code. Or you can try and get it at night, when the child is asleep. Another way to find out the code is to capture it.
With the help of spy app, you can see the verification code. It will capture the number without leaving any signs on the mobile device. Once you insert the code, you can delete the SMS on the device to leave no hints for its owner.
Final Advice: What Difficulties Can You Face When Hacking Snapchat Account?
Snapchat is the secured environment. With lots of safety measures, Snapchat developers guarantee that users' data is protected. Not surprisingly, one who wants to hack a Snapchat account may experience certain difficulties.
If you want to crack either your own or someone else's Snapchat account, you need to know the email address connected with the profile. Although, you may know the additional email, Snapchat will require the email associated with certain account.
To perform Snapchat account hack, you may also need to know the user's phone number. Snapchat makes it difficult for hackers to omit the security restrictions. So, you will need to provide email and/or phone number connected to the Snapchat profile.
It may happen that you lose access to the email or phone number stated in your account. If such happens, you won't be able to hack or restore your profile.
With Snapchat you can also face the problem that the account you hacked, may be locked. Snapchat regularly checks account for prohibited activity. If you use any plugin to access Snapchat, add too many friends or your account is compromised, it will be locked.
All the restrictions from Snapchat makes it more and more difficult for users to hack an account. Keylogger and spy apps offer a safer way to crack any social media profile. The good thing is that they are invisible and don't interfere the work of mobile device itself.
For now, we can only recommend you using the spy app to hack a Snapchat account. So, you will prevent the account lock and get insights into the activity of your spouse, partner, child or family member.
Install the app to get hidden access to any Snapchat account!
Read more detailed guides and find out how to perform Facebook hack, Instagram hack, Tinder hack, Kik hack and Skype hack.

Snapchat Hack: An Effective Method You Never Heard About!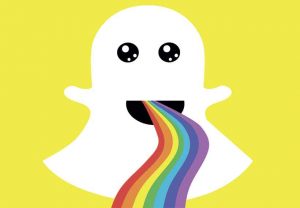 Snapchat is one of the most popular social media platforms nowadays. Snapchat is a simple messenger app: impressed by community filters, lenses and exclusi