These days texting has replaced the old means of communication. Now, we tend to write short messages to someone, instead of calling the person or discussing the issue in real life. Indeed, texting is the most convenient way to transfer any information.
Texting allows you to reach friends and family who live abroad. We can also manage businesses and enterprises without the need to call every employee and tell them what to do. Texting has considerably changed our private and public lives.
But with many benefits, texting can also be unsafe. Exposing our private phone number to someone we barely know, we put our privacy at risks. Is there a way to control who can see our caller ID?
Luckily, some apps and services can hide your number from anyone. With these best apps for anonymous texting, you can send your message to anyone while staying 100% hidden!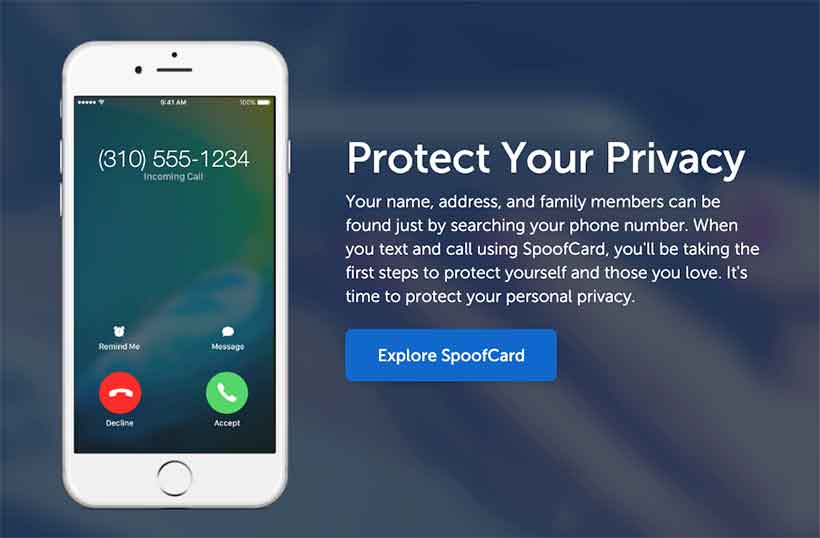 SpoofCard
More than 4 million users apply SpoofCard app to text anyone anonymously. The application is perfect at hiding your real phone number and exposing the different caller ID.
SpoofCard is the app, which allows spoof calling and texting. You need to open the app to reach anyone with fake caller ID. Once you opened the app, select SpoofText to send a message anonymously. Then you can write a message and enter the phone number of the recipient.
The message will appear on the recipient's mobile phone, but instead your real phone number, SpoofCard will display the fake one.

Smiley Private Texting
Smiley Private Texting is the application created especially for iOS devices. It helps users to protect their privacy and text anyone without exposing their phone number.
You only need to install it, open the app and enter the number you want to send message to. Then you can type the unlimited number of texts. The recipient will receive all your messages and can only see the fake number. When the contact replies to your text, you can read all replies right in the app.
The Smiley Private Texting app is free to use during the first trial week. Then you can either cancel the subscription or renew it to continue using anonymous texting.

Spoof My Text Message
It is a website, which you can use to send someone an anonymous message. But, Spoof My Text Message is a little more complex than two previous apps.
To try out anonymous texting with Spoof My Text Message you need to buy a plan consisting of 5 messages minimum. Only once your purchase is confirmed, you can send spoof text. You can also create a fake phone number so that the recipient won't recognize you.

AddaLine
AddaLine is an online service, which provides anonymous texting for personal and business purposes. The service is available only in USA, Canada, and Sweden, which makes it slightly a limited option.
AddaLine is not a simple spoof text service. Except for anonymous texting, it allows you to create unlimited numbers, block anyone who wants to contact you and guarantee your personal safety, ensuring that the generated numbers are untraceable.
AddaLine is compatible with both Android and iOS mobile phones. It also has a free trial and offers personal and business plans.

Second Texting Number
The Second Texting Number app is designed to help users protect their privacy. It allows you to acquire the second phone number, which will be displayed instead of your first, real one. Second Texting Number app works as a simple messenger. Using the app, you can send and receive both text messages and photos.
Second Texting Number is an ad-free space. It doesn't interfere with your texting experience with constant pop-ups. If you have any troubles with the app, you can contact their customer support at any comfortable for you time.

Grab App
Why Anonymous Texting Apps Are Necessary?
With the variety of instant messengers and social media apps, it may seem weird that someone would want to send texts anonymously. But anonymous texting apps help you to keep your privacy protected.
Usually, different types of services ask you to provide your phone number so they could target you with ads and excessive promo. They even sell the base of phone numbers to other companies, who will then promote their goods calling you.
Anonymous texting apps will help you avoid all that. If any company or service requires you to enter your mobile phone number for confirmation, etc., you can always use one of the apps above. They will create a fake number for you, so you can use it till you don't need it anymore.
Top 5 Best Anonymous Texting Apps
Anonymous texting allows you to send any message to someone while staying invisible. Discover the best anonymous texting apps to try out now.