Launched in 2010, Instagram (now owned by Facebook, Inc.) has grown to become one of the biggest social media apps. It is a platform where users can share photos and videos with their followers or the public and view others' media.
If a person's Instagram account is private or you're not their follower, you can't see their photos. The only way out is having their password right in your hand. That even gives you access to their Direct Messages to know who they are talking to. But how do you get to know someone else's Instagram password?
When you type "how to find out someone's Instagram password" on the Google search box, the myriad of results is usually overwhelming. That would be no problem if most of the solutions weren't drop-down fake or unsafe.
We've decided to cut through the chase. Our goal is to provide you with the best way to lay your hands on someone else's Instagram password. In this guide, you will discover how you can do so without breaking a sweat.
Why You Might Want to Find Out Someone's Instagram Password
Infidelity – both physical and emotional – has never been easier thanks to social media. There are apps that make this much easier than ever before. People can escape into the lives of other people, even if they are far away in another country!
First, why do you want to find out the Instagram password for another person? There are several possible reasons for that. Maybe you suspect your partner is talking to someone else, and you want to find out for yourself. Or you want to monitor your kids' social media activity to know who they are talking to. We all want to keep our kids safe from online predators and identity theft, don't we? Also, maybe you want to keep an eye on your relatives, especially when they travel abroad.
Whatever your reasons might be, read on to learn how to know someone else's Instagram password.
How to Discover Instagram Passwords Using Keylogger?
One of the simplest tools for discovering Instagram passwords is Keylogger. Keylogging app works by capturing the keystrokes of the target phone. It also records the login details the target enters on the phone. You get to access these details from a web-based Control Panel.

Hence, to find out your spouse or kid's Instagram password, install the keylogging app on their phone. Once they type in their Instagram login credentials, it will appear on your dashboard.
The Best Monitoring Apps to Get Someone's Instagram Password
So which is the best keylogging app that allows you to find someone's Instagram password? There are tons of apps on the Internet you can choose from. It's essential to find tracking software that is trustworthy, efficient, and pocket-friendly at the same time.
We've taken the time to go through most of the monitoring apps available on the Internet. We've analyzed their functionality, effectiveness, and ability to work on both Android and iOS devices.
We Suggest mSpy for Getting Someone's Instagram Password!
Our number one is mSpy because it is the simplest and most effective way to track someone's phone without being discovered. mSpy is a reliable Instagram password finder that allows you to keep an eye on your kids and spouse's activity smoothly.
mSpy is regarded by many as the most reputable and reliable app in the market, giving you amazing functionality for a great price.
How mSpy Can Help You?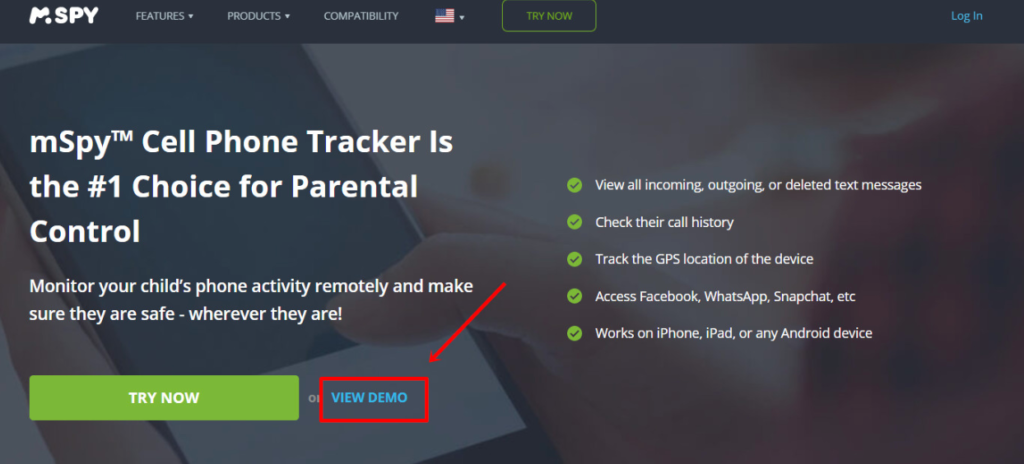 Is mSpy Good for Android and iOS?
mSpy stands shoulder-high above other tracking apps because it works on both Android and iOS devices. That's not all; it doesn't require you to root the target Android phone or jailbreak the target iOS device. So, regardless of the type of target phone, you can always depend on mSpy to find someone's Instagram password.

How to Get Someone's Instagram Password Using mSpy – A Step-By-Step Guide
So how do you get right into laying your hands on someone's Instagram password using mSpy? Here's a step-by-step guide that can help:
Step 1: Install mSpy on the Target Phone
Since mSpy captures the user's keystrokes, you need physical access to the target mobile phone to track it. So the first step is to install the mSpy app on the phone.
Step 2: Track Keystrokes by the Keylogger
Installing the app on the target mobile phone is the hard work you have to do. After that, you sit back and watch mSpy tracks everything the target types on their phone. The app works in a stealth mode, ensuring you stay undetected throughout the process.
Step 3: Instagram Password Capture
Once the target types in their Instagram password on the phone, mSpy's keylogging feature captures it. The password saves on mSpy's server, and after that is transferred to your Control Panel where you can access it. Your Control Panel contains all the keystrokes captured by the Keylogger, including passwords to other social media accounts like Facebook.
Step 4: Access the Saved Instagram Password
With the job done, all you have to do is log in to your mSpy web-based platform to access the saved password. On your Control Panel, click on the Keylogger option from the list of mSpy's features. There you'll find the Instagram login credentials of your target and other keystrokes captured by the app.
With the help of monitoring apps, you can access anyone's Instagram account easily. Not only they can help you discover someone's IG password, but also keep you in the know about the activities on target mobile phone.
Thanks for your feedback!